Raksha Bandhan – The thread of Love
Have you ever wondered what the story behind the Raksha Bandhan is? Behind this, there was so many stories but the most famous story in Indian Mythology. This story is about Lord Krishna & Draupadi,  The wife of five Pandavas. This story is coming from Makar Sankranti while catching sugarcane, the small finger of Lord Krishna was cut off. Meanwhile, Draupadi watched this entire incident then she cut off a little bit of her saree and tied it on Lord Krishna's finger to stop bleeding. In return, Krishna promised to help her when required. Krishna helps Draupadi during the unceremonious denude. Krishna came & converted her saree into the never-ending thing, saving her from the embarrassment, by giving her protection when she needed it the most.
The relevance of Raksha Bandha
The name of the festival, Raksha Bandhan is made up of two words, Raksha means protection, and Bandhan means relation. On this auspicious day, sister ties 'Rakhi' around the wrist of their brother. This festival is of considerable significance which we assume from the fact that it strengthens the relationship between a brother and sister. Sister tying the spiritual thread around the wrist brother is a symbol of attachment, means to strengthen their bond of love. And brother promise to protect her sister from every evil and brings gifts for her on this day.
Short Story of Mine
When I looked back a few years ago, so many amazing memories come rushing back. Some of the most precious ones are on Raksha Bandhan. It was a lovely day.  The whole night it was raining.  Sun was shining and a little dazzling too. I got up early and took a  bath and wore my favourite Kurti. And I was busy preparing my thali for rakhi, while my mother was calling me again and again for breakfast. I kept my brother's favourite sweets (mithai), sindoor, and rice grains for teeka in my thali. My brother was excited too. As he is not a morning person but that day he got up early and ready for rakhi.
Then I tied a rakhi around his wrist. He took the sweet and ate a full piece of sweet by himself. Then I asked for my gift. He started to make fun that he forgot, so he had only chocolate for me. I was a little disappointed but accepted as a token of love.  I took the chocolate and turned, and suddenly something came close to my eyes. It was blurred, and I am not able to see what was that. Suddenly I saw a key. I was wondering what kind of key. He was smiling and said your gift is outside. I quickly ran out and found my scooty there. I was overjoyed and hugged my brother and thanked him for the wonderful gift.
Siblings are the best friends that God give us, and it's one of the most beautiful bonds in our lives. India is home to countless festivals. It brings the family together, especially on Raksha Bandhan when you celebrate your beautiful relationship with your brother or sister. The name of this festival, Raksha Bandhan, made up of two words, "Raksha" means "protection" and "Bandhan" means "relation." On this day sister ties 'Rakhi' around the wrist of their brother. It symbolizes her love and prayers for her brother's good health and well being and in return the brother pledge to protect her for life.
There are many ways to make it a truly memorable experience. Here we are going to share some fantastic ways to celebrate Raksha Bandhan in a different style out-of-the-box and more personal that will blow up your mind.
Celebrate this Raksha Bandhan through different and interesting ways:
Do shopping for each other: On this Raksha Bandhan the usual ritual of giving Rakhi gifts for brother or return Rakhi gift for sister, the ideal way of doing something for each other like clothes, gadgets, and accessories, etc.
Make a Rangoli with flowers: Rangoli is drawn at the entrance of because Scientifically, it supposed to have a appease effect on the visitors. It gives a different look and feels and also looks very pretty at the entrance.
Go popular eating place: For all the foodie brothers and sisters, go and eat and enjoy the day together with what you love the most. But be cautious as overeating may ruin your next day because of any illness. So choose the place with hygienic and quality food.
Use fresh flowers and flowers vases to decor: I like fresh flowers along with colourful vases too. On this occasion, add fresh flowers like roses, calla lily, and sunflower, etc.
They look great, and you also add the leave with light scent in the room, which makes it a  happy and festive environment.
Decorate the Aarti Thali at home: Aarti thali is one of the most important parts of the Raksha Bandhan festival. On this plate, we keep the rakhi, Diya, kumkum, rice, and sweets which are all required during the rakhi tying ceremony. You can buy thali from the market or make it simple at home. Take a simple thali and cover with a red velvet cloth. Then add a gajra made of jasmine flowers and place it all around the edge. Then place the rest of the things in the centre, and your thali is ready.
Plan a movie day out: The best way of enjoying the day Raksha Bandhan is planning a movie day out with brothers or sisters. After getting done with the rituals of Aarti, tying rakhi thread, praying for each other and exchanging gifts, the next half of the day plan for a movie.
Use fairy lights: Twinkling fairy lights always look nice, and during festivities, such lights come handy. Fairy lights are best-created decor in balconies for this day.
Give Flowers and cake to surprise your brother/sister: You can never go wrong with flowers and cake. This combo is very simple yet sweet. You can surprise your sister with her favourite cake and flowers at midnight and vice-versa. You can choose a variety of combos (Cake and flowers).
Rakhi Gift Hampers: You can make this even more special by giving your brother or sisters some amazing rakhi hampers. Buy gifts for your siblings to celebrate the Raksha Bandhan day. Convey your feelings to your brother or sister on a special day. You can also include some cards in the hamper to make it even more special.
Enjoy the day at Amusement Park: You can also go to the nearby amusement park if your brothers or sisters are quite adventurous. You can plan to celebrate Raksha Bandhan 20120 in the amusement park and have a blast. Everyone will be going to love you for taking them to an adventurous place to celebrate the day with lots of fun and make the day even more special. With that, you and your brothers will never forget the memories you created on Raksha Bandhan throughout life.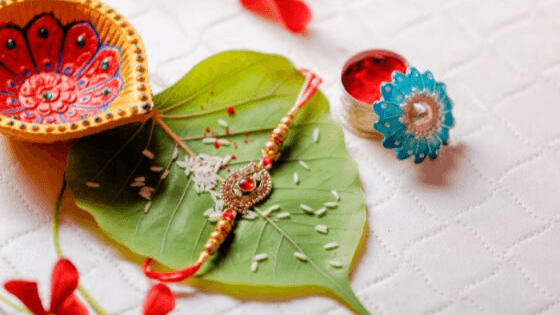 May your bond with your sisters or brothers deepen with each passing day, and May each Raksha Bandhan brings you with beautiful surprises. These were 10 amazing way to celebrate Raksha Bandhan 2019 and have a blast of good memories. These are some of the unique ways to celebrate and make the day eternal in memories.
A proverb says, "Old is gold" In older times, every relationship was given importance. But nowadays, we have progressed in every field. Despite this, we forget our relations. Nowadays, most people become nuclear. That love and bond of brother and sister are fading day by day. I just want, like we have made progress in each field, we should also progress in love for relations.
Even though brothers and sisters fight like cats and dogs, but they have the bond they share is like as they are best of friends and always stand by each other in times of need. Here, we wish all the amazing brothers and sisters a very happy RAKSHA BANDHAN. May this festival of love fill your lives with loads of love and awesome memories. And remember one thing that no thread all blood should define the relationship between brother and sister. So let's celebrate Raksha Bandhan this year with a promise to always be there for each other.